Istanbul, formerly Constantinople, is a magical city. Mosques with Disney-style minarets dot the skyline while the syncopated calls to prayer drift from competing muezzin throats, aided by speakers to carry their call through the air. It's eerie and beautiful, much like the city itself. And the food. Oh the food! Living in Israel, the flavors were familiar and I realized just how many Israeli dishes are Turkish in origin.
Turkish cooking is all about a perfect balance of spices, mostly blends that leave you trying to guess at their composition. The city is inexpensive as a whole and the food is cheap and downright delicious. I love any city that boasts good street food and I encountered some of my favorite in Istanbul. Men at carts sold roasted chestnuts, boiled and grilled corn, various breads, brightly colored pickles, meat kebabs, rice pilaf, and fresh fish sandwiches.
The city has a vibrant culinary scene, offering everything from wonderful laid-back taverns with plentiful meze and raki to high end, chef-driven restaurants where you can enjoy a fancy meal. We ate in all kinds of places all over the city and didn't have a single bad meal (well, there was one…but I'll get to that later). We stuffed ourselves on Turkish delights and more kinds of baklava than I ever knew existed. We ate borek and Turkish "pizza," meze and manti, and so much more. We also took a cooking class, which I will tell you about another day.
I purchased a few select spices from the intoxicating spice market (specifically from Ucuzcular Baharat, which I highly recommend), and left Turkey feeling inspired and invigorated. The flavors are still fresh in my mind and you can look forward to many Turkish-inspired dishes to appear here in the weeks to come. Already I cannot wait to return. And for now it is only a two hour trip, so I think I must. For now, here are my favorite Istanbul restaurants and eats that we encountered:
Açik Mutfak
This was our favorite find, and one of our best meals in Istanbul. We stumbled upon it while walking up the big hill in Beyoglu and decided randomly to explore a dark side street where children played and there appeared to be a few cafes. As soon as we saw Açik Mutfak, which means Open Kitchen in Turkish, we knew it would be a memorable dining experience. The tiny restaurant has only seven tables and can probably accommodate about 22 people. The modest kitchen is at the very front when you walk in, and the meze are laid out on the counter, tempting you in. The restaurant smells delicious, and you get the sensation that you've just walked into someone's home for dinner.
Açik Mutfak is warm and inviting with white brick walls, mismatched chairs, and Ella Fitzgerald wafting through the speakers. The simple menu is written on a chalkboard and is made up mostly of mezes like humus, eggplant dip, carrot with yogurt, and black-eyed peas with coriander. For 30TL the three of us got the mixed plate – a mix of all their meze – and feasted on the selection. In addition we shared the meatball plate with rice and salad (20TL) and the manti (17TL), which are petite ravioli stuffed with meat and covered in creamy yogurt sauce. We shared a one-liter carafe of their house wine (60TL) and enjoyed a leisurely meal with impeccable service. Galipdede Cad. Timarchi Sokak 6b Galata, Beyoglu Tel: (+90 212) 293 7433
Akin Balik
It is always fun to see a familiar face or two when traveling, and we were fortunate to meet up with old family friends who relocated from New York City to Istanbul over a decade ago. They took my husband, sister, and I to this laid back fish restaurant located right behind the fish market next to the Galata bridge on the Karakoy side. We started with simple and delicious meze salads, calamari, and pickled fish. For our main course we had grilled çinakop (small bluefish) and another fish I can't recall. Both were simple, fresh, and just wonderful. Dessert was an insanely rich dish that, with a bit of research, I learned is called Guvecte Tahin Helvasi, or warm baked halva. Behind the fish market by the Galata bridge, Perşembe Pazarı Ali Yazıcı Sokak Eski Gümrük Han (+90 212) 244 97 76
Ciya Sofrasi
When everybody you know who lives in or has ever been to Istanbul tells you to go to the same restaurant, you listen. For me that restaurant was Ciya Sofrasi (pronounced chia sofrasi), a ferry ride away on the Asian side of Istanbul. After such hype you can imagine my surprise to find a casual, unpretentious restaurant waiting. Although they have menus, the waiter took us to the front where a cook was surrounded by 20 or so pots and pans filled with traditional Anatolian food. After he described each dish we chose six (many half portions) to share between three of us. We also began with the salad/meze bar, where you help yourself and then pay per weight. My ridiculously full plate cost a mere 6TL, and had a veritable rainbow of both familiar and unfamiliar meze dishes from stuffed grape leaves to spicy bitter greens.
The dish I was most exited for – chicken, rice, currants, and almonds encased in a thin layer of pastry (15TL) – turned out to be underwhelming and on the bland side. But that was the only miss of the evening. Fragrant, fall-apart tender lamb stew with dried vegetables (6TL), lamb-stuffed eggplant (6TL), bulgur rice with chickpeas (3TL), an unusual lamb and yogurt stew (6TL), and stuffed cabbage leaves with rice and yogurt sauce (6TL), were all Turkish comfort food at its best. The New York Times described the chef, Musa Dagdeviren, as a "culinary Indiana Jones" because he has traveled the country extensively gathering traditional recipes that are unfamiliar even to many native Istanbulites. As if the good food isn't reason enough to make the trek here, at 86TL for three people it was also our cheapest meal. I should point at there are three Ciya restaurants across the street from one another, and while they are connected everyone was very careful to tell me to go to Ciya Sofrasi as opposed to the two kebab places. Guneslibahce Sokak 43A, Kadikoy (+90 216) 330 31 90 www.ciya.com.tr
Fish sandwiches
If you like fish then you can't leave Istanbul without trying one of the fresh fish sandwiches (balik ekmek) near the Galata Bridge. Everyone will tell you to go to the brightly lit boats on the Eminonu side of the Galata bridge. Here, you will find three different establishments selling the sandwiches for 5TL and nearby stands selling neon-colored pickles for an additional 1.50TL. The sandwiches here were good, the atmosphere was fun, and they offer seating, but our favorite fish sandwich (also 5TL) was just on the other side of the bridge next to the fish market.
There stands a lone guy with a grill and a beautiful set up of vibrant accoutrements like tomatoes, lemons, and greens. He grills the mackerel in front of you, all the while carefully scraping away the tiny bones. He then squeezes lemon and sprinkles spices over, toasts the bread, adds tomato, onion, lettuce, and grilled HOT pepper. It's just incredible – simple, fresh, and delicious. I'm not joking when I say that this was one of our top eating experiences in Istanbul.
Karaköy Güllüogu
Many say the city's best baklava can be found at Karaköy Güllüogu, and I can't argue with them. The family has been making baklava since the 1800s and has had this shop since 1949, so they know what they're doing. They have an incredible selection with more kinds of baklava than I ever knew existed, and you just go around with a tray pointing at what you want. I loved the pistachio, while my husband particularly enjoyed the chocolate. Be sure to get a big dollop of clotted cream and a cup of hot tea to accompany your snack. Karakoy, Mumhane Cad. No. 171, 34425 Tel: (+90 212) 249 96 80 www.karakoygulluoglu.com
Levi Lokantası
We don't keep kosher, but as someone who lives in Israel and writes about Jewish food I was intrigued by Istanbul's lone kosher restaurant, Levi Lokantasi. Although it's right near the spice bazaar, we had trouble finding this slightly hidden restaurant so allow me to save you some time: find Hamdi restaurant, which is a multi-story restaurant with neon signs and famously arrogant waiters that will likely be in your guide book. Levi is down the block in the opposite direction from the spice bazaar and not obviously marked. Look up to see "Kosher Levi" written in the window and head up a set of stairs that looks like a service entrance.
With the slightly hidden entrance and single men eating silently alone at tables, the restaurant has a certain clandestine feel. Like many of the restaurants in Istanbul, the waiter directed us to the front where he described what was on offer that day. We sat down to a lunch of lamb in tomato sauce with potatoes, meatballs in a matzo meal sauce, matzo fritters, spinach "flan," and zucchini fritters. I wish I could say it was a good meal, but it was not. It was typical bland kosher for Passover food that still somehow manages to upset your stomach. And for 120TL without drinks it was our most expensive meal. Still, I can't help but feel that it was a worthwhile experience. Tahmis Kalçın Sok. Çavuşbaşı Han No: 23/6 Eminönü, İstanbul
Tel: (+90 212) 512 11 96
Lokanta Maya
Our family friends who I mentioned earlier recommended this gorgeous, modern Turkish restaurant to us. Situated down the block from Karaköy Güllüogu, not too far from the Galata bridge on the Galata Tower side, it's easy to get to while also slightly off-the-beaten-path. Much like the food, the décor is modern with rustic touches – one wall is covered in whole walnuts behind mesh; the cocktails and specials are written on chalkboards and mirrors; plain black tables are contrasted with stunning wood chairs; bulbous light bulbs float from the ceiling. The chef, Didem Senol, went to culinary school at New York's French Culinary Institute before returning to her native Istanbul to cook Aegean and Anatolian cuisine.
The mains were good, but it was the starters that were really special. We particularly enjoyed the deceptively large Legumes Salad (11TL), which featured lentils, bulgur, pomegranate seeds, and mint, with olive oil and pomegranate molasses. The zucchini fritters with dill yogurt sauce were also excellent: perfectly fried and super creamy on the inside. The Caramelized Sea Bass with Chard and Quince (28L) and Chicken with Couscous and Baked Vegetables (26L) were both well-executed and flavorful, if slightly less exciting. For dessert we had Mastiq Pudding with Framboise (11TL), which was just incredible. The mastiq gave it a floral, woody flavor akin to pine trees. It was a unique, elegant take on traditional mulabi and like nothing I've ever tasted. Kemankeç Cad. No: 35/A Karaköy, Eminonu www.lokantamaya.com
North Shield Pub
I wouldn't advocate a special trip to the North Shield Pub, but if you happen to find yourself near one then there are worse places to have a drink. It's a chain British pub with multiple locations around Turkey and eight in Istanbul alone. The atmosphere is nice – it's a nice quiet pub with comfy chairs where you can watch the game or chill out. But the beers were pricey (12TL for a ½ liter of Efes) and the food not great (we tried the calamari, which was only 10TL but a small portion of flavorless, chewy calamari). Ebusuud Cad. No: 2, Sultanahmet Tel: 0212-527-09 31 www.thenorthshield.com
Red River
Please don't judge us for going here, but it turned out to be where we went for a beer every night. Sure, it was down the block from our hotel, but the wait staff was phenomenal and the beers reasonably priced at 8TL as opposed to 12. We didn't have their food, so I can't speak to it. Named after a John Wayne movie, the saloon-style bar is all kitsch (the waiters must wear suede vests and bolo ties) and totally out of place in Istanbul, but again I can't fault it for its good service and decent prices. Hüdavendigar cad. No: 44 Sirkeci 34110 (+90 212) 513 73 10 www.redriverpub.com
Semazen Bufe and Restaurant
There are no shortage of places to get a doner kebab in Istanbul, but this was our place of choice, particularly in the Sultanahmet area. Although they have a restaurant with seating and presumably a full menu, we always opted for the take-away doner kebab. We tried both the lamb and chicken, in a wrap, pita, and French bread. They were all delicious. I loved that when we passed them in the morning we could see them loading up the spits with fresh, marinated meat. Be sure to ask for the spicy seasoning and yogurt sauce. Divan Yolu Cad. 36 (I think – it was at the corner of Ticareth, near the Sultanahmet rail stop) 34122 Suntanahmet
Tarihi Sultanahmet Koftecisi
I never would have expected to find good food so close to the Hagia Sofia and Blue Mosque, but just across the street is this gem. In business since 1920, Tarihi Sultanahmet Koftecisi has a concise and no-frills menu: beef kofte, lamb kebab, rice pilaf, and white bean salad. The service is brisk but excellent from uniformed, career waiters and the kofecisi (the term for a restaurant specializing in kofte, or meatballs) seems like a local institution. The lamb kebab (16TL) is succulent and not gamey at all, while the beef kofte (11TL) is perfectly spiced and quite different than Israeli kofte I'm accustomed to. The rice pilaf (5TL) and white bean salad (5TL) are plain but great accompaniments to the meat. Divanyolu Caddesi No: 12 34122 Sultanahmet T +90 212 520 05 66 www.sultanahmetkoftesi.com
Yildiz Café Borek Salonu
This place was another pleasant surprise in touristy Sultanahmet. I didn't write down the exact address, but it's on Hüdavendigar Caddesi near the Gulhane stop on the rail. It's a completely unpretentious, old school-looking borek and pide spot staffed by two older men and populated with locals. We got a spinach borek and cheese pide, which we washed down with sour cherry juice. It was the perfect afternoon snack! Hüdavendigar Cad. 14 (or somewhere thereabouts) 34122 Fatih/Sultanahmet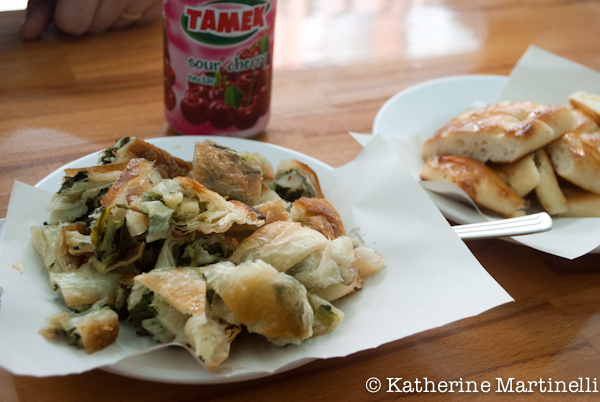 Check out all of my travel features here >>
Phew! Thanks for bearing with me on that one – I know it was long! Have you been to Istanbul? What's your favorite foodie destination?