The theme for this month's World on a Plate is stuffed vegetables and I couldn't be more excited. I considered classic stuffed peppers (I found a recipe in an American cookbook from the early 1900s) but then I decided on one of my favorite summer favorites: Stuffed squash blossoms. Squash blossoms are the pretty yellow-hued edible flowers that grow along with zucchini and other summer squash. They have a subtle flavor on their own but make the perfect vehicle for delicious fillings. Squash blossoms are also a gorgeous addition to pastas, pizzas, and salads.
[pinit count="horizontal"]
Usually squash blossoms are stuffed, battered, and fried, which is obviously delicious. But this time I wanted to make something a little lighter that wouldn't smoke up my house in the dead of summer. I was thrilled to find that baking produced the same crisp texture that I love with a creamy, melty inside. I only wish I could find squash blossoms in Israel!
Baked Stuffed Squash Blossoms
Baked stuffed squash blossoms make for a beautiful and elegant appetizer fresh from the farmer's market.
Author:
Katherine Martinelli
Ingredients
1 cup ricotta
3 eggs, divided
⅓ cup chopped parsley
Salt
12 squash blossoms
¾ cup breadcrumbs
Directions
Preheat the oven to 400F.
Mix together ricotta, 1 lightly beaten egg, and parsley. Season with salt.
Put the remaining 2 eggs in a bowl and whisk. Put the breadcrumbs in another bowl.
Carefully spoon filling into each squash blossom and twist loosely at the end to close.
Dip each stuffed squash blossom in egg, then breadcrumbs, and transfer to a parchment or tin foil-lined baking sheet.
Bake for 10 minutes, until lightly browned and crispy.
Remove from the oven. Allow to cool for a few minutes before serving.
Notes
Kosher dairy, Vegetarian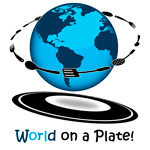 World on a Plate is a blogging cultural exchange. On the last Sunday of the month, bloggers from all over the world get together to interpret a food through the lens of their home country cooking. Each blogger will produce a wonderful dish featuring the food chosen that is typical of her/his home country and will tell us a bit about the dish.