Just as I became obsessed with Greek food (like chicken souvlaki and Greek salad) after our trip to Rhodes, I've returned from Istanbul with a hunger for all things Turkish. The incredible flavors, intoxicating scents, and evocative spices have left their mark on my palate, and I find myself trying to recreate little bites of our trip at home. As I mentioned in my post about where to eat in Istanbul, the first place we ate when we arrived was a wonderful, no frills kofte  restaurant that had me craving these Turkish meatballs for the rest of the trip.
[pinit count="horizontal"]
In Turkey, kofte refers to small, flattened patties of ground meat (usually beef or lamb) that are somewhere between a slider and a meatball. They were most often served simply with rice pilaf, so my version on a pita is a departure, more like something you would see in Israel. I also didn't have them in Turkey with any kind of yogurt sauce, but in my book everything is delicious with yogurt sauce (obviously leave this off to make it kosher).
While in Istanbul a trip to the Spice Market is a must for any food lover. In addition to the Turkish delights (lokum) and Iranian saffron that I stocked up on, I also purchased "meatball spice" from the Ucuzcular spice shop. A mix of cumin, sweet paprika, allspice, black pepper, coriander, nutmeg, ginger, and cinnamon, this is a common Turkish spice mix that instantly transforms ground beef into Turkish kebab. Obviously if you don't have this concoction then wing it with some combination of the above spices; not very technical or precise, I know, but I do believe it will leave you with the general flavor. If I were mixing it up myself I'd add just a pinch of ground nutmeg, ginger, and cinnamon and be a little more generous with the other spices.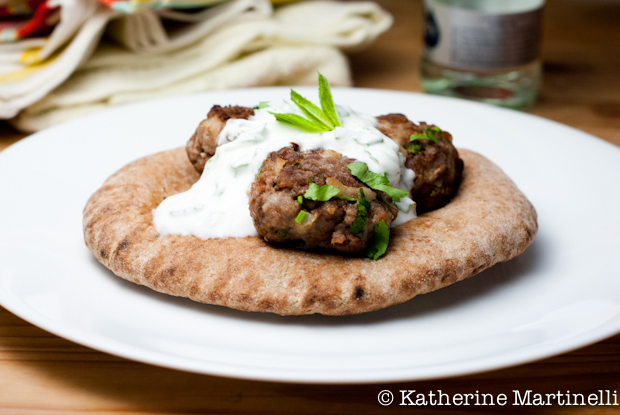 The lovely folks at Ucuzcular were also nice enough to email me a booklet of recipes highlighting their spices. This kofte recipe is an adaptation of theirs, and it was absolutely delicious. The spiced meat was flavorful without being overpowering, and the dish couldn't be easier to prepare. My husband, always my biggest fan, declared them the best kofte he'd ever eaten.

Kofte with Mint Yogurt Sauce
These Turkish meatballs are very good replicas of the ones we ate in Istanbul, although there they would typically be served plain with rice pilaf. Leave off the yogurt sauce to keep this dish kosher.
Author:
Adapted from Ucuzcular spice shop (Istanbul)
Ingredients
Kofte:
1 pound ground beef
¼ cup breadcrumbs
1 egg
½ cup minced onion
¼ cup chopped parsley, loosely packed
2 teaspoons meatball spice (or some combination of cumin, sweet paprika, allspice, black pepper, coriander, nutmeg, ginger, and cinnamon)
4 cloves garlic, minced
Flour
Vegetable oil
Torn mint or parsley, for garnish
Mint Yogurt Sauce (optional):
1 cup plain yogurt
½ cup chopped mint
Salt and pepper
Directions
For the Kofte:
Put the ground beef, breadcrumbs, egg, onion, parsley, meatball spice, and garlic in a large bowl and mix thoroughly with your hands until well combined.
Form them into 16 or so small, flattened meatballs.
Lightly coat each kofte in flour.
Put enough vegetable oil in a large skillet so that it is well-coated and heat over medium-high.
Add the kofte, working in batches if necessary, and cook, flipping once, until done (about 5 minutes per side).
Transfer to a paper towel-lined plate.
Serve with plain rice pilaf or, as I have here, on a pita and topped with mint yogurt sauce. Garnish with torn or chopped mint or parsley.
For the Mint Yogurt Sauce:
Put the yogurt and mint in a small bowl and stir to combine.
Season with salt and pepper to taste.
Serve immediately or store in a covered container in the fridge.
Notes
Kosher meat if yogurt sauce is omitted (it's still delicious!) Can be made gluten free with GF breadcrumbs.