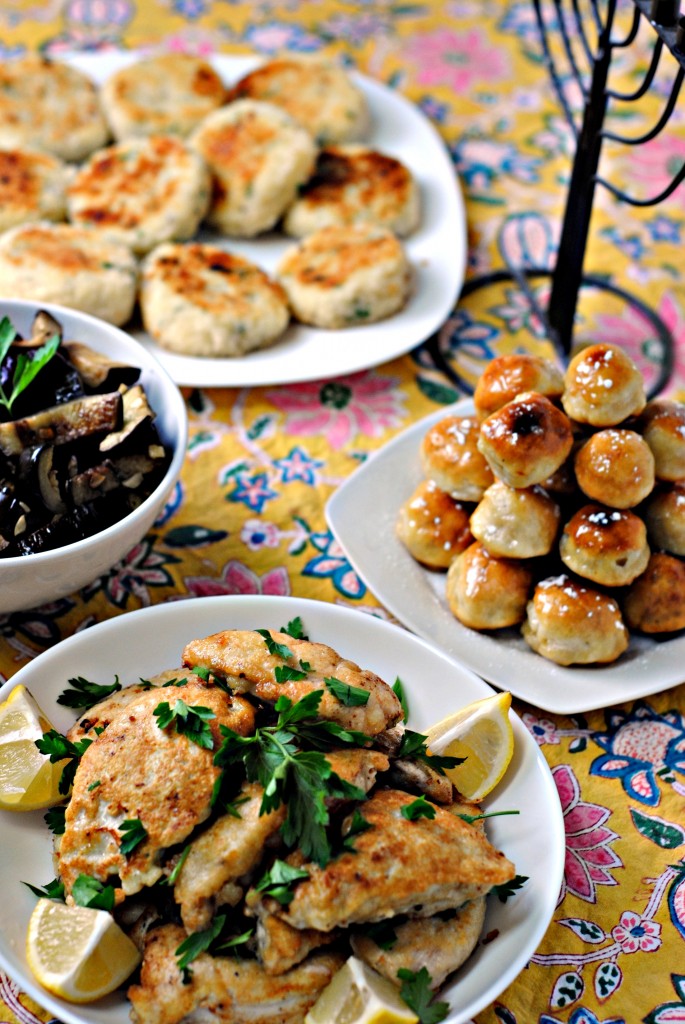 Christmas may have come and gone (did you have a nice holiday?), but there's still two days of Hanukkah left! If you're tired of latkes and sufganiyot (as if that could happen), allow me to suggest a few recipes from the Italian Jewish canon. Italian Jews make up one of the world's oldest Jewish communities, combining two great culinary traditions. After doing a good bit of research for an article in the Jew and the Carrot (check it out here), I learned that while Hanukkah traditions vary by region, one dish is universal throughout the country: Pollo Fritto per Chanuka, or Fried Chicken for Hanukkah.
As you might expect, Italian-Jewish fried chicken bears no resemblance to the buttermilk-soaked, cornmeal-breaded American version. For one, soaking in buttermilk is out as that is not kosher. Instead, this recipe calls for a simple marinade of olive oil, lemon juice, nutmeg, and garlic that acts to flavor and tenderize the meat. The chicken is then dredged in flour and egg (in that order) and fried. The outsize develops a nice, flaky crust, while the inside is as tender as chicken gets.

This traditional Jewish-Italian Hanukkah dish is so good you'll want it year round.
Author:
Katherine Martinelli
Ingredients
¼ cup olive oil
¼ cup lemon juice
¼ teaspoon nutmeg
2 teaspoons minced garlic
2 pounds chicken breast, cut into tenders*
¾ cup flour
2 eggs, beaten
½ cup vegetable oil
Lemon wedges
Chopped parsley
Directions
Mix the olive oil, lemon juice, nutmeg, and garlic in a large bowl. Add the chicken and turn to coat. Marinate, covered, for at least an hour or overnight in the refrigerator.
Dip each piece of chicken first in the flour, then in the egg.
Heat the vegetable oil in a large, heavy duty pan over medium-high until hot.
Add the chicken, working in batches if necessary (do not crowd the pan), and fry until golden brown on both sides and cooked through.
Transfer to a paper towel-lined plate and keep warm in a 200F oven if not serving immediately.
Serve with lemon wedges and garnish with chopped parsley.