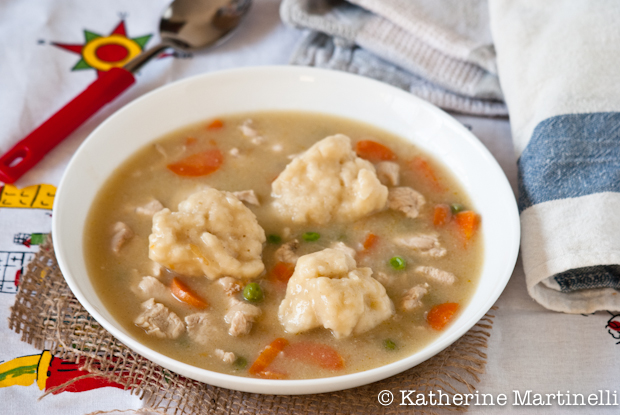 If you're not from the US, or even more specifically, not from the American South, then you may not be familiar with chicken and dumplings. But you should be. Basically a chicken stew with simple biscuit dough added and simmered at the last minute, it is pure comfort food. Although chicken and dumplings is most commonly attributed to the South, it can also be found in the Midwest and may have even originated from a similar French Canadian dish that appeared in the Great Depression (says Wikipedia). When I made it most recently, I was struck by its similarity to Ashkenazi Jewish matzo ball soup. My husband, meanwhile, compared it to chicken pot pie filling. Both of which are some of our favorite foods.
Chicken and dumplings can be made a few different ways, depending on how much time you have. Traditionally, it's a budget-friendly dish that makes every ingredient last. So typically you start with a whole chicken and boil it to make broth, then use the meat in the soup. But if you're looking for shortcuts you can also start with canned broth and the shredded meat of a rotisserie chicken. I like to use homemade stock, and have included instructions for a few different methods depending on what you're starting with.
However you make chicken and dumplings, I'm sure everyone in the family will love this comforting American classic. And once you've checked out this recipe, be sure to follow the blog hop for other dumpling recipes from other cultures brought to you by my blogging buddies at World on a Plate!

Chicken and Dumplings
This classic Southern dish (somewhere between a soup and a stew) is comfort food at its best and is sure to appeal to everyone in the family.
Author:
Katherine Martinelli
Ingredients
For the Chicken and Stew:
3 tablespoons (42g) butter
1 onion, roughly chopped
3 carrots, sliced
¼ teaspoon dried thyme
1½-2 pounds (about 750g) chicken breast or boneless chicken thighs (or 3-4 cups shredded cooked chicken)
⅓ cup flour
4 cups (950 ml) chicken stock (preferably homemade)
For the Dumplings:
1 cup flour
1 teaspoon baking powder
½ teaspoon salt
¾ cup milk
To Finish:
1 cup fresh or frozen peas
Directions
For the Chicken and Soup:
Melt the butter in a heavy-bottomed pot over medium heat. Add the onion, carrots, and thyme and cook for 5 to 7 minutes until softened and just beginning to lightly brown.
Add the chicken and cook, stirring often, until all sides are lightly browned. (If using pre-cooked chicken simply add, stir, and move on to the next step).
Add the flour and stir until you can't see any floury white bits. Add a cup or so of the broth and stir. Add the remaining broth. Lower the heat to medium-low and simmer while you prepare the dumpling batter.
For the Dumplings:
Put the flour, baking powder, and salt in a bowl and stir to thoroughly combine. Add the milk and stir until a loose dough forms.
To Finish:
Add the peas to the chicken stew and stir.
Drop heaping spoonfuls of the dough batter into the stew, spacing them evenly apart. Cover and cook for 15 minutes (don't lift the lid!).
Uncover and check to see that the dumplings are cooked and slightly firm. Cover and cook for another 5 minutes if necessary.
Serve and enjoy!
Notes
To make kosher dairy, use margarine or other butter substitute.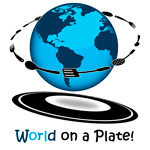 World on a plate
 is a blogging cultural exchange. On the last Sunday of the month, bloggers from all over the world get together to interpret a food through the lens of their home country cooking. Each blogger will produce a wonderful dish featuring the food chosen that is typical of her/his home country and will tell us a bit about the dish.