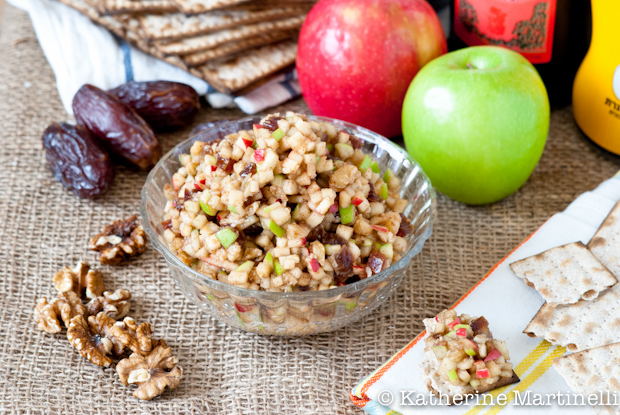 Although I didn't grow up celebrating Passover, I've been attending seders since I was 14, first with friends' families then, for the past 12 years or so, with my husband's family. It was love at first seder. Back at my first Pesach I was still an awkward, picky eater of a teenager, and as the charoset (haroset) passed by I put a dainty spoonful on a piece of matzo. But one taste of the apple-walnut mixture had me scrambling for seconds and it's been one of my favorite components of the holiday ever since. It's definitely kid-friendly, and delicious even if you're not in the market for Passover recipes (check out the last paragraph for some ideas on how to put it to use).
Most Jewish holidays are inextricably connected with food, which is probably what I like so much about them, with Passover the ultimate example of food symbolism. The seder, which is the traditional gathering to mark the holiday, literally tells the story of Passover through food. Each item on the seder plate tells an aspect of the story of the Jews escaping slavery in Egypt so many centuries ago. Bitter herbs represent the bitterness of slavery while salt water represents the tears shed during that trying period. Charoset, meanwhile, signifies mortar, which was used by the enslaved Jews to build storehouses.
Indeed, the brown-hued, cinnamon-flavored mixture often resembles something you might use in construction, but it's a sweet and delicious treat that can be enjoyed beyond the Passover seder. Stir some charoset into yogurt or oatmeal for a healthy morning flavor injection, or spoon it on top of ice cream along with an additional drizzle of date honey (silan) for a sweet treat. If you're not keeping kosher for Passover (when for eight days you can't eat any leavened bread products), then consider making charoset pancakes, then topping them with more charoset – I did that with my leftovers and it was simply dreamy! As you can see, this simple mixture has lots of potential beyond pesach recipes.

Apple-Date Charoset (Haroset)
An integral part of the traditional Passover seder plate, this charoset is flavored with dates and date honey as a nod to Israel, the land of milk and honey (the honey they referred to in the bible was likely date honey).
Author:
Katherine Martinelli
Ingredients
2 apples (I like 1 Granny Smith and 1 Pink Lady), cored and finely diced
6 Medjool dates, pitted and roughly chopped
¾ cup coarsely chopped walnuts
¼ cup sweet red wine
1 tablespoon date honey
1 teaspoon cinnamon
Directions
Put all the ingredients in a large bowl and mix thoroughly, breaking up any sticky date clumps.
Serve immediately (with matzo) or cover and keep at room temperature until ready to serve (alternately make up to a day ahead and store in a sealed container in the fridge).
Notes
Gluten free, Parve, Vegan, Vegetarian
 If the blog hop doesn't show up below, click here to view the collection and link up.