I know it sounds crazy even to say – sugar free sugar cookies? It's a total oxymoron. But when planning a baby shower for a woman with gestational diabetes the usual sweet buffet just won't do. Beth cut most normal carbs and processed sugars out of her diet, and took regular blood sugar tests so knew that she reacted well to spelt flour and agave nectar. My mission: To make something akin to sugar cookies without all the sugar. I found these healthy sugar cookies, swapped the almond flour for whole wheat spelt flour, and was in business. With only four ingredients and no butter, I knew that these would be about as healthy as cookies could get – but how would they taste?
[pinit count="horizontal"]
I'm not going to lie to you – these are no buttery, rich sugar cookies. But they're pretty darn good. And with some sugary icing (I just couldn't find a good sugar free glaze) they were damn good. I iced most of them and left some plain for anyone not looking to get a sugar high. They were all gone pretty fast. I obviously cut them out with baby bottle cookie cutters for the baby shower, but these cookies would make an excellent addition, iced or plain, at any event and in any shape. They roll out easily and even with the sugary icing are waaaaay healthier than your average cookie. Without the icing they're parve and vegan!
Sugar Free Sugar Cookies with Optional Glaze
With only four ingredients and no sugar or butter, this is about as healthy as cookies get. Of course, if you choose to dress it up with some sugary icing they're not technically still sugar free - but they're still a heck of a lot healthier than your average cookie!
Ingredients
Sugar free sugar cookies:
1½ cups whole wheat spelt flour
¼ cup coconut oil
¼ cup agave
¼ teaspoon baking soda
Glaze (optional):
2¼ cups powdered sugar (ie icing sugar or confectioners sugar)
2 tablespoons light corn syrup
¼ cup milk
Food coloring (optional)
Directions
For the sugar free sugar cookies:
Put all ingredients in a mixing bowl and mix until smooth (it should come together very quickly).
Roll into a ball, wrap in plastic wrap, and flatten into a thick disc. Refrigerate for 10 minutes.
Preheat oven to 350F.
Roll out on a floured or nonstick surface with a rolling pin.
Cut out cookies using your favorite cookie cutter and transfer to a parchment-lined baking sheet.
Bake for 7 to 10 minutes, until golden brown. Cool on a rack before icing, or leave plain.
For the glaze:
Mix the powdered sugar, corn syrup, and milk together until smooth. It should be a spreadable paste. If it's too thin add a tad more sugar, and if it's too thick add a few drops more milk. If you'd like to color it, add a few drops of food coloring. Alternately, it dries hard and glossy, so you can use food safe markers to decorate later.
To glaze the cookies:
I applied the white frosting with a piping bag in the design I wanted (here, a baby bottle outline). Then I added a little red food coloring (ok, not going to lie, I was in a pinch and it was Campari - no joke) to some frosting in a bowl and painted that on to the top with a paintbrush I have set aside only for food purposes. I used a toothpick to draw the lines on the bottle.
Notes
Cookies: Parve, Vegan, Vegetarian Icing: Kosher dairy, Vegetarian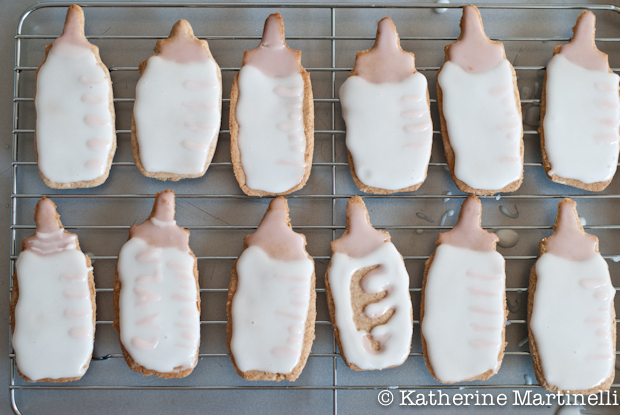 *My apologies! For some reason the blog hop code keeps disappearing. If it doesn't work leave your cookie links in the comments and I'll link them up and pin them! Aye-yay-yay!