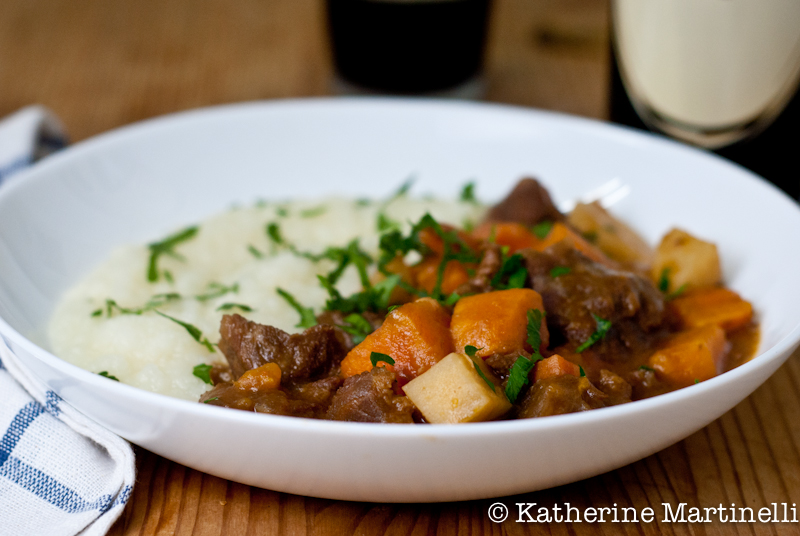 In case you couldn't tell from my last name, I'm not Irish. But growing up in New York City, come St. Patrick's Day everyone is Irish. It's fun and festive, rowdy and chaotic. I know that drinking lots of beer is a St. Patrick's Day tradition (an entirely made up one, by the way – but who's to argue?!), but this weekend why not save some of that brew for your stew (watch out, I may break out into limericks at any moment…). Enter Irish Beef Stew, sometimes called Guiness Beef Stew, a hearty and delicious way to celebrate the luck of the Irish.
I make no claims on authenticity here as I added in some fairly unauthentic ingredients, but the soul of the dish remains the rich Irish stout, in this case Murphy's. For one, I added sweet potatoes instead of regular potatoes just because. For another, this entire dish became sort of an unintentional ode to radishes. I included some black radishes, which are something of a flavor combination between turnips and normal radishes (see them in the photo below compared to traditional red breakfast radishes). And I served the stew with a very untraditional daikon radish puree. It was all delicious together, and perfect for this rainy weather we've been having. But, as with most stews, you can feel free to play around and add whatever veggies you have on hand. A parsnip puree would be great as well, as would more traditional mashed potatoes.
This entire meal, by the way, is gluten free and (if you use margarine in the puree) kosher meat!
I can't wait to see what green, drunken St. Patrick's Day recipes you have to share in this week's blog hop! How are you celebrating the luck of the Irish? Any parades or fun weekend plans? As you may imagine it's not the biggest holiday in Israel, but our local bar is having "Irish week" nonetheless 🙂
Irish Beef Stew and Daikon Radish Puree
Feel free to use any combination of root vegetables in this hearty beef stew. And if daikon radishes aren't available, make a parsnip or potato puree instead using the same method.
Author:
Katherine Martinelli
Ingredients
Irish beef stew:
1½ pounds stew/goulash beef, cubed
½ cup flour
¼ cup vegetable oil
1 large onion, roughly chopped
5 cloves garlic, minced
1½ cups Irish stout (such as Guinness or Murphy's)
4 cups beef broth
3 tablespoons tomato paste
1 bay leaf
1 tablespoons worcestershire sauce
10-12 ounces sweet potatoes, cubed
2 large carrots, sliced
3 small black radishes or turnips
Salt and pepper
Daikon radish puree
2½ pounds daikon radishes, peeled and roughly chopped
1 cup chicken broth, warmed
2 tablespoons butter or margarine, softened
Salt
Directions
For the Irish beef stew:
Toss the beef in flour so that it is fully but lightly coated. Reserve any extra flour for later.
Heat the oil in a large pot over medium heat.
Add the beef and cook, stirring, until browned on all sides.
Add the onion and garlic and cook, stirring constantly, 2 minutes.
Add 1 cup of the beer, beef broth, tomato paste, worcestershire sauce, and bay leaf and stir to combine, scraping up any bits from the bottom of the pot.
Bring to a simmer and lower the heat. Cook, covered, for at least 2 hours.
Add the potatoes and black radishes and continue to cook, uncovered, for another half an hour.
Add the carrots, season with salt and pepper, and cook for half an hour.
Remove the veggies and meat with a slotted spoon.
Whisk together 2 tablespoons of the reserved flour from coating with a ladleful of the hot broth. Add it back into the pot and whisk to combine.
Add the remaining ½ cup beer to the pot and boil until the mixture is reduced by half.
Return the meat and vegetables to the pot and heat until warmed through. Serve immediately with daikon radish puree (recipe to follow).
For the daikon radish puree:
Put the daikon radishes in a large pot and cover with cold water. Bring to a boil and allow to simmer for 30 minutes, or until tender. Drain.
In a blender (or in the pot using an immersion blender), puree the radishes, chicken broth, and butter or margarine until smooth. Season with salt and serve.
Notes
Kosher meat (use margarine in the puree), Gluten free