Irish Beef Stew and Daikon Radish Puree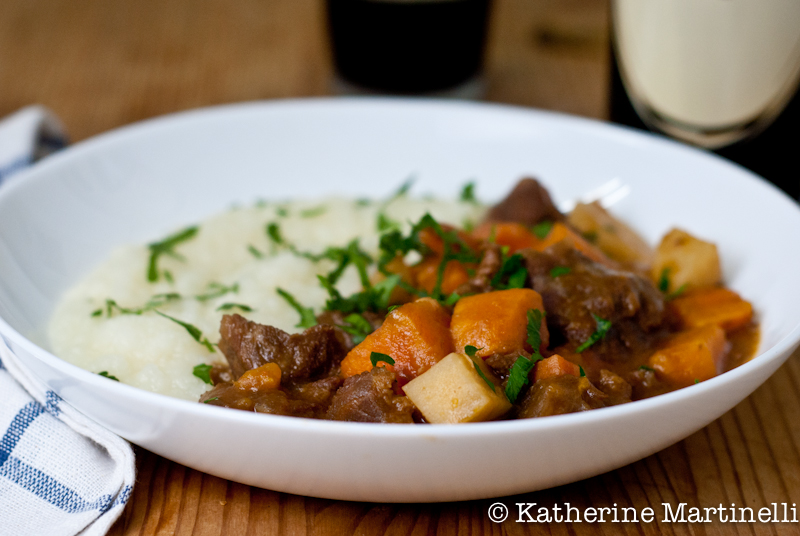 Author:
Katherine Martinelli
1½ pounds stew/goulash beef, cubed
½ cup flour
¼ cup vegetable oil
1 large onion, roughly chopped
5 cloves garlic, minced
1½ cups Irish stout (such as Guinness or Murphy's)
4 cups beef broth
3 tablespoons tomato paste
1 bay leaf
1 tablespoons worcestershire sauce
10-12 ounces sweet potatoes, cubed
2 large carrots, sliced
3 small black radishes or turnips
Salt and pepper
2½ pounds daikon radishes, peeled and roughly chopped
1 cup chicken broth, warmed
2 tablespoons butter or margarine, softened
Salt
Toss the beef in flour so that it is fully but lightly coated. Reserve any extra flour for later.
Heat the oil in a large pot over medium heat.
Add the beef and cook, stirring, until browned on all sides.
Add the onion and garlic and cook, stirring constantly, 2 minutes.
Add 1 cup of the beer, beef broth, tomato paste, worcestershire sauce, and bay leaf and stir to combine, scraping up any bits from the bottom of the pot.
Bring to a simmer and lower the heat. Cook, covered, for at least 2 hours.
Add the potatoes and black radishes and continue to cook, uncovered, for another half an hour.
Add the carrots, season with salt and pepper, and cook for half an hour.
Remove the veggies and meat with a slotted spoon.
Whisk together 2 tablespoons of the reserved flour from coating with a ladleful of the hot broth. Add it back into the pot and whisk to combine.
Add the remaining ½ cup beer to the pot and boil until the mixture is reduced by half.
Return the meat and vegetables to the pot and heat until warmed through. Serve immediately with daikon radish puree (recipe to follow).
Put the daikon radishes in a large pot and cover with cold water. Bring to a boil and allow to simmer for 30 minutes, or until tender. Drain.
In a blender (or in the pot using an immersion blender), puree the radishes, chicken broth, and butter or margarine until smooth. Season with salt and serve.
Kosher meat (use margarine in the puree), Gluten free
Recipe by
Katherine Martinelli
at http://www.katherinemartinelli.com/blog/recipe/2012/irish-beef-stew-recipe/