Jerusalem artichoke season is coming to an end (they're still at the market in Israel – what about the rest of the world?), so I knew I had to get this recipe up soon. This recipe for salmon with Jerusalem artichoke puree and herb sauce is an elegant, restaurant-quality meal that's ready in under an hour – I swear! Salmon filets are brushed with a mixture of honey, Dijon mustard and curry powder and seared. Jerusalem artichokes (i.e. sunchokes) are simmered and pureed with butter and warm cream. And, for the finishing choice cilantro and mint are blended with olive oil for a sauce full of fresh flavor.Jerusalem artichokes are not artichokes, nor do they come from Jerusalem – they're tubers in the daisy family and actually taste like a mix between artichokes and sunflower seeds. An interesting historical tidbit care of Wikipedia: Jerusalem artichokes are actually native to the Americas and were cultivated by the Native Americans. A French explorer brought them from Cape Cod to France in 1605 and by the middle of the century they were commonplace. Indeed, I always associated them way more with France than America.
When purchasing salmon try to make the most sustainable choice. Wild salmon is typically considered a more eco-friendly choice than farmed, but this article from The Daily Green posits that the distinction between fresh and frozen is actually more important – with frozen fish being the more sustainable choice since "container ships are by far the most efficient and carbon-friendly way to transport food." Interesting. Obviously if you have access to super fresh local salmon, then go with that.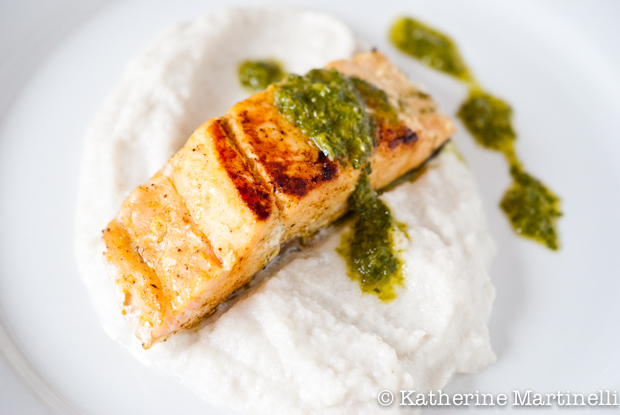 I realized that while I cook salmon fairly often, I have few recipes on the blog. So here you go! What are your favorite ways to enjoy salmon? Share your recipes in the blog hop below, or tell me in the comments!

Salmon with Jerusalem Artichoke Puree and Herb Sauce
A restaurant-style meal at home in under an hour, this salmon with Jerusalem artichoke puree and herb sauce makes for an elegant but easy gluten free and kosher meal.
Author:
Katherine Martinelli
Ingredients
For the Jerusalem Artichoke Puree:
½ lemon
2½ pounds (1.13 kg) Jerusalem artichokes
3 cloves garlic
2 tablespoons (28g) butter
½ cup heavy cream
For the Herb Sauce (makes a little under ½ cup):
1 cup cilantro
1 cup fresh mint
¼ cup olive oil
2 tablespoons water
Salt
For the Salmon:
1 tablespoon honey
½ tablespoon Dijon mustard
1 teaspoon curry powder
1½ pounds (730g) salmon filet, cut into 6 or so pieces
Directions
For the Jerusalem Artichoke Puree:
Fill a large bowl with water and the juice of ½ lemon. Peel and roughly chop the Jerusalem artichokes and immediately put in the acidulated water to prevent from turning colors.
Fill a large pot with water and add the peeled Jerusalem artichokes and garlic cloves. Bring to a simmer, then cook for about 15 minutes, or until very tender.
Drain and transfer to a blender.
Add the butter and blitz. Heat the cream so it is warm but not bubbling and pour half in the blender. Blend until smooth, adding the remaining cream until you get the creamy consistency you want. Season with salt and set aside.
For the Herb Sauce
Blend the ingredients in a blender or food processor until very smooth. Set aside (can be made ahead and refrigerated for up to a few days).
For the Salmon:
In a small bowl, mix together the honey, mustard and curry powder. Brush it on the fleshy side of the salmon (not the skin).
Heat a drop of olive oil in a large nonstick or well-seasoned cast iron pan over medium-high heat.
Once hot, add the salmon skin-side down. Cook until the skin is crispy. Lower the heat slightly and flip the salmon, cooking until done to your liking (about 7 minutes per side, depending on how thick the salmon is). Remove from the heat. (Alternately, you could cook the salmon in a 350F oven without flipping for about 15 minutes.)
To Serve:
Spoon a portion of the Jerusalem artichoke puree in the center of each plate, then gently place a salmon filet on top. Drizzle with cilantro-mint sauce and serve. Sauteed spinach also makes a nice accompaniment.
Notes
Gluten free and Kosher dairy