The theme for this month's World on a Plate is auspicious foods for a prosperous year. Since I represent America in this global get-together, the first thing that came to mind was Hoppin' John, the famous southern dish of black eyed peas and ham hock. Being short on time and ingredients, I settled instead on a Cajun-inspired shortcut red beans and rice with smoky andouille sausage. Feel free to soak dried beans overnight, but if you need a quick supper this recipe is your answer.Although black eyed peas are the most popular bean for prosperity in the new year, all legumes (depending on your traditions of course) work. According to Epicurious, "Legumes including beans, peas, and lentils are also symbolic of money. Their small, seedlike appearance resembles coins that swell when cooked so they are consumed with financial rewards in mind." Greens are another popular ingredient since they share the color of American money. Why's it all about the money? I'll be happy with good health for me and my friends and family, and love. Of course, I suppose it would be nice to work off some of our debt…

Whatever you believe, this dish is perfect any time of year. It's fast and simple, but with complex flavors. I barely added any additional seasonings since the andouille sausage (I use chicken andouille sausage that we brought back from the States…) flavors the entire thing. It's warm and comforting, flavorful and full of protein.

Shortcut Red Beans and Rice for the New Year
Beans are said to bring luck and prosperity for the new year. Try this recipe for Cajun-inspired shortcut red beans and rice for a tasty, auspicious meal.
Author:
Katherine Martinelli
Ingredients
2 tablespoons olive oil
1 onion, chopped
1 green pepper, diced
2 cloves garlic, minced
1 pound andouille sausage (I used smoked andouille chicken sausage)
1 (20-ounce) can red beans
½ cup chicken stock
Salt
Chopped parsley
Tabasco sauce
Directions
Heat the oil in a large pan. Add the onion, pepper, and garlic and cook, stirring often, until softened but not browned.
Add the sausage and sauté for 2 minutes. Add the beans, stock and salt and simmer for 20 minutes, or until the liquid is mostly absorbed.
Roughly mash some of the beans with a fork or potato masher and stir everything together well.
Remove from the heat, serve with rice, and garnish with chopped parsley and Tabasco, if you like.
Notes
Gluten free and kosher meat (if you use kosher chicken andouille sausage as I did)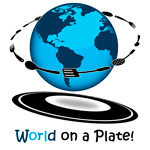 World on a plate is a blogging cultural exchange. On the last Sunday of the month, bloggers from all over the world get together to interpret a food through the lens of their home country cooking. Each blogger will produce a wonderful dish featuring the food chosen that is typical of her/his home country and will tell us a bit about the dish.