The theme for this month's World on a Plate is picnic food, and I couldn't be more excited. I'm representing the US in this global group, and picnic foods are some of the most quintessentially American. I've already posted about many of them, so I've created a little virtual All-American picnic for you, capped off with a recipe for my favorite mayo-free potato salad. It's a bit more like a French potato salad in that it is essentially coated in a mustard vinaigrette instead of mayo, but I've always found the idea of normal potato salad sitting out in the heat to be unsavory.
[pinit count="horizontal"]
Pack your picnic basket – it's a virtual picnic!
Here's a cole slaw so light it's known as 

Health Salad
Finally, the
Potato Salad

you've been waiting for

This potato salad gets its brightness from lemon juice and a good zing from the Dijon mustard. It couldn't be easier to put together, and goes well with every kind of picnic and barbecue main. On top of it all, it's gluten free, parve, and vegan!


This mayo-free potato salad is the perfect side for a picnic, and it only gets better after a few hours in the fridge or picnic basket.

Author:

Katherine Martinelli

Ingredients
1½ pounds new potatoes, halved or quartered
¼ cup extra virgin olive oil
1 tablespoon Dijon mustard
Juice of 1 lemon
Salt and peper
¾ cup chopped scallions
Directions
Put the potatoes in a pot and cover with cold water.
Simmer over medium heat, uncovered, for 20 to 25 minutes, until tender. Drain and allow to cool slightly.
Meanwhile, whisk together the olive oil, mustard, and lemon juice in a small bowl. Season with salt and pepper.
Put the potatoes in a large bowl and toss with the vinaigrette and chives. Serve immediately or store in an air-tight container in the fridge for up to three days.
Notes
Gluten free, Parve, Vegan, Vegetarian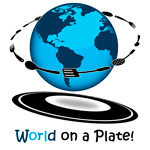 About World on a Plate: Started by Pola from Italian in the Midwest, World on a Plate is a purposefully small group that is all about cultural exchange. Each month we will have a theme (this month's theme is picnic food!) and will post a recipe from our "home country" that fits the theme. We are currently nine bloggers who represent Germany, India, Italy, Korea, Malaysia, the Philippines, Sweden, and the United States (that's me!). If you are interested in joining and see that your home country is not represented, give Pola a shout!