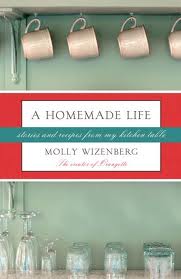 Happy leap year everyone! How are you enjoying this extra day? I'm sure you are familiar with Orangette, the wildly popular food blog written by the immensely talented Molly Wizenberg. If not, well, you should be. And you should also probably read her book, A Homemade Life: Stories and Recipes from My Kitchen Table (Simon & Schuster Paperbacks, 2009). It was the selection for this month's Kitchen Reader Book Club (you should join!), chosen by Jules of Stone Soup and I am so glad I finally got around to reading it.
I knew I would like this book from page one. Wizenberg tells of her family's daily dinners together, sitting around the table every night to share a meal. "We'd be sitting at the kitchen table, the three of us, eating dinner, when my father would lift his head from a plate and say it: 'You know, we eat better at home than more people do in restaurants.' Sometimes, for good measure, he's slap the table and let loose a long ooooh oh contentment." This description struck a chord with me because it could easily have described my family. We ate, the four of us, dinner every single night together. And my father frequently commented – rightfully so – that it was better than any restaurant. Much like Wizenberg's family, this wasn't because the food was particularly fancy (although we definitely ate well). It was the sense of family, of gathering over food, and of creating a homemade life.
Part memoir and part cookbook, Wizenberg's book is the kind you'd like to curl up with. It's inviting and cozy. Her prose is casual but well-crafted, and makes you feel at home. She describes simple and everyday memories with skill, highlighting the beauty of the special, often overlooked moments we share around food. It's happy and sad, full of all the joy and heartbreak that families the world over share. It's highly relatable.
In each section Wizenberg relays a brief chapter or vignette from her life and introduces a recipe, which means that each and every recipe is meaningful in some way. From her late father's potato salad with ranch dressing, the ultimate buckwheat pancake she spent years trying to recreate, an early recipe she posted on her blog that led fortuitously and circuitously to her meeting her husband. And this banana bread. I was intrigued from the moment I saw the recipe, the inclusion of crystallized ginger tickling my senses. I made the bread the day I came across the recipe, and am thrilled to have this spin on banana bread in my repertoire. (I have to admit, it's no replacement for my favorite banana bread recipe, but it's always fun to mix things up.)
I didn't change a thing when I made the recipe so I'll have you pop on over to The Wednesday Chef (another great blog) to get it (get the recipe HERE). Tell me – Have you read any great books lately? I'm always on the lookout for recommendations!
Linked up at Tastetastic Thursdays over at A Little Nosh