This is one of those things that's been on my list to make for a long time: homemade harissa. The fiery, vibrant red, North African pepper hot sauce is completely addictive and revs up anything you add it to. Stews take on new depth, dips get kick, and tagines will never be the same. Popular in Tunisia, Algeria, and Morocco, harissa has also become a hip flavor in the States where you will find harissa aioli, harissa-marinated steak, harissa grilled shrimp, and harissa oil.
I consulted a number of recipes before making my own. Some call for roasted red peppers, but from what I could find authentic harissa sticks with dry hot peppers. The recipe at Serious Eats is a good basic harissa, but calls for roasted red peppers, which I'd decided against, and ground spices. My research also indicated that toasting whole caraway, coriander, and cumin seeds then grinding them would result in a much more flavorful harissa. Also, various sources emphasize not to leave out the caraway seeds. Although the amount is small, they leave a subtle but perceptible flavor. The recipe at Saveur is quite good, and close to what I ended up making, but called for dried mint, which I wasn't interested in. The New York Times offers another great rendition, but omits the lemon juice, which I just couldn't live without. America's Test Kitchen offers some great tips to go by, but no recipe unless you are a subscriber. And Yotam Ottolenghi's recipe in Plenty is quite excellent, like all of his recipes (I'm obsessed) but calls for red bell pepper and onion, which I wanted to do without. And do check out Winnie's amazing version over at Healthy Green Kitchen – doesn't it look amazing?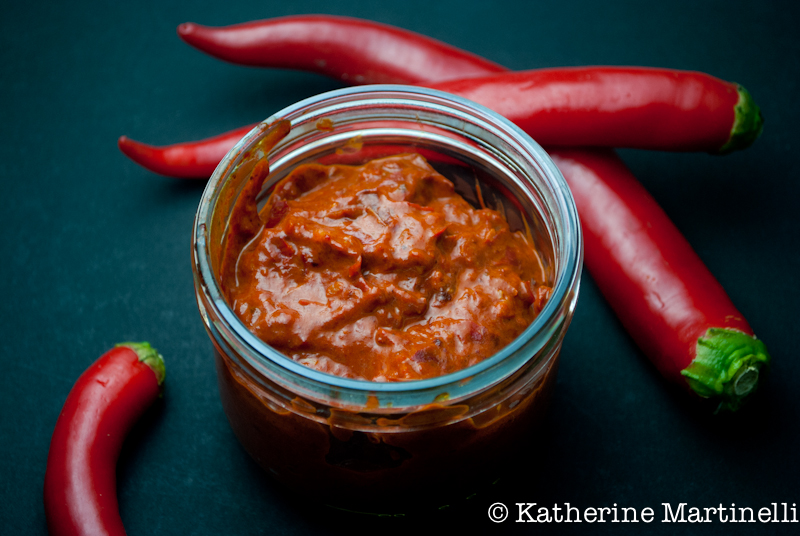 So, what was I looking for in a harissa? I wanted to use a variety of dried peppers, and ended up going with 1 ancho chili, 10 small dry hot chili peppers, and 6 large mild ones (they look like puya peppers but I'm not 100% sure). I wanted to use whole spices, toasted and freshly ground. I wanted garlic, olive oil, lemon juice for brightness, and tomato paste for some extra concentrated flavor as well as great texture. I added in some fresh roasted hot chili peppers too, just for fun. And the result – incredible. Layer upon layer of flavor. I wanted to eat it with a spoon, and did. The heat builds, rolling to the back of your tongue and settling in your throat with a pleasant, but not overbearing, spice. If you need ideas for how to use it stay tuned for Monday's post. I've got an incredible recipe coming up for you plus lots of ideas on how to put your homemade harissa to good use.
This week's blog hop is all about peppers and I can't wait to see what you have to share! Last week's breakfast blog hop was a huge success with over 65 amazing recipes linked up. I created a Pinterest board to share the recipes, which you can follow here. And I've got a pepper board ready and waiting here! Thanks as always for stopping by and sharing your recipes.

Make harissa - a fiery, North African hot sauce - at home and you'll be adding to everything from dips to stews. Use different types of peppers to adjust the heat from mild to blowing out your ears.
Author:
Katherine Martinelli
Ingredients
1½ ounces various dry chilies, seeded (wear gloves!)
2 fresh red hot chili peppers
4 cloves garlic
½ teaspoon caraway seeds
¼ teaspoons coriander seeds
¼ teaspoons cumin seeds
¼ cup plus 1 tablespoon olive oil
2 tablespoons lemon juice
½ teaspoon tomato paste
½ teaspoon salt
Directions
Preheat the oven to 400F.
Put the dry chilies in a bowl and cover with hot water. Soak for 30 minutes to 1 hour.
Put the fresh chili peppers on a baking sheet and roast 20 minutes, or until lightly charred. Remove from the oven and put in a brown paper bag or wrap in paper towels to cool. Scrape away charred skin and roughly chop.
Lightly toast the caraway, coriander, and cumin seeds in a hot pan until aromatic, about 3 minutes. Grind in a spice grinder.
Put all the ingredients in a food processor and pulse until well combined and smooth. Store in a glass jar in the fridge for up to 1 month.
Notes
Gluten free, Parve, Vegetarian, Vegan