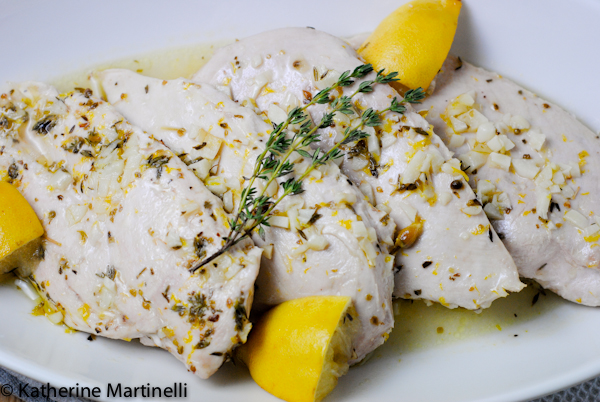 Like many of you, I am always looking for nourishing, simple, flavorful recipes that taste delicious but don't take up too much of my time. Don't get me wrong, I love to linger over a slow braise or all day sauce as much as the next Slow Food member, but some nights just don't allow that luxury of time. Recipes that can do double duty for weeknights as well as entertaining are even more cherished. This chicken recipe from Ina Garten, aka Barefoot Contessa, fits the bill.
I've made it twice now, and each time it's been stunning. The first time I made it exactly as is. The second I futzed slightly, but only by omitting ground oregano and fresh thyme and using just fresh oregano instead. I also allowed the chicken to marinade for a while in the fridge, instead of putting it directly in the oven. Both versions were most excellent. It reminds me of a slightly more elegant version of the Chicken Oreganato I grew up eating. Another thing I like about this dish is that it goes well with any number of sides, so you can dress it up or down depending on your mood. Roasted, steamed, or sautéed vegetables, potatoes in any form, a simple salad, lentils, couscous, pasta, or just about any grain would all feel equally at home on the plate.
I'm not going to post the recipe here since I did so little to alter it. But Barefoot Contessa has generously shared it on her own site, so you can find the recipe there. (It seems to be off her site but on Food Network, so I've linked there below.) I hope you enjoy it as much as I did!
Also, for some fun stuff – Easy Foodsmith and Healthy Foodie Travels both passed on the Fabulous Blog Award to me this month and I couldn't be more honored! I am a huge fan of both of their blogs – if you haven't visited them before, please do!
Finally, a fellow Anglo-Israeli food blogger Hannah Katsman of Cooking Manager interviewed me on her blog! Check it to here and say hi.