I adore cookbooks and have a particular affinity for vintage editions. I love the insight that you get into a time and place from its recipes, the similarities and differences between now and then, the foods and ingredients that were in vogue. I recently discovered an absolute treasure trove: the Library of Congress digital collection of American Church, Club and Community Cookbooks from the late 19th and early 20th century. Dozens of cookbooks from organizations around the country are available in full and online for your reading pleasure – you can even download them for free onto your tablet!
[pinit count="horizontal"]
The theme for this month's World on a Plate event was originally rice salads, then was expanded to include pasta and grain salads. Since I'm the US representative, I wanted to dig into my newfound archives and find a truly American recipe to bring to the table. I went through every single cookbook in this particular collection and was surprised to find only two rice salad recipes, one from 1921 and the other from 1922. They are very simple, and call for mixing vegetables with rice and topping them with salad dressing (mayonnaise-based dressings were the most popular at that time). While the recipe in the Shorewood cookbook (compiled by the Ladies' Aid Society of the Luther Memorial Chapel, East Milwaukee, 1922) was slightly more interesting for its inclusion of watercress and olives, I opted for the simpler recipe from the Brewster Book of Recipes (by the Woman's Association of Brewster Congregational Church and their Friends, Detroit, 1921).
This recipe couldn't be simpler, and is in essence rice with peas and carrots. But I like the idea of serving it with a dressing, as well as presenting a mound of it on a lettuce leaf. It definitely has an old-fashioned feel to it, which also makes it comforting in its simplicity. There's not much not to like about rice, peas, and carrots, and this simple dish – with or without salad dressing – would make a wonderful side for any meal. If you have trouble making perfect rice, read my instructions carefully – I swear it comes out just right every time!

This simple rice salad is pure Americana, and makes a wonderful side for just about any meal.
Author:
Katherine Martinelli (adapted from the Brewster Book of Recipes)
Ingredients
1 cup rice
1¾ cups water
1 tablespoon butter (optional)
1 cup carrots, small dice
1 cup peas (frozen or fresh)
Salt and pepper
Lettuce leaves
Salad dressing of your choice
Directions
Put the rice and water in a small pot and add the butter, if using (omit to make vegan and parve - I include it to add flavor and prevent it from sticking to the pot).
Turn the heat to medium and bring the water to a simmer.
Lower the heat and cover the pot.
Cook until the water is absorbed and the rice is tender, about 15 minutes.
Remove from the heat and keep it covered for at least 5 minutes.
Remove the lid and fluff with a fork. Turn out into a large bowl to cool.
Meanwhile, bring another pot of water to a boil and add the carrots and peas. Cook for about 5 to 7 minutes, or until just tender.
Drain and run cold water over so they keep their vibrant color.
Mix the rice with the peas and carrots in a large bowl. Season with salt and pepper.
You can choose to mix in salad dressing to taste at this point or drizzle over once it has been served.
To serve, Place a lettuce leaf on each salad plate. Tightly pack rice and vegetable mixture into a small bowl. Turn the bowl upside down on the lettuce leaf so it forms a small mound.
Drizzle with salad dressing, if you haven't already, and serve.
Rice salad is best enjoyed the same day and should not be refrigerated (although the dressing helps to keep it moist). If you have leftovers, make fried rice with it the next day.
Notes
Gluten free, Parve (omit butter), Vegan (omit butter), Vegetarian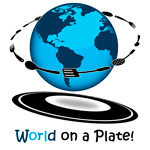 World on a Plate
is a blogging cultural exchange. On the last Sunday of the month, bloggers from all over the world get together to interpret a food through the lens of their home country cooking. Each blogger will produce a wonderful dish featuring the food chosen that is typical of her/his home country and will tell us a bit about the dish.