As a follow-up to my post on flavored simple syrups, today we'll be making homemade maraschino cherries. You've had maraschino cherries before. Those candy apple red, overly sweet, gummy drops sitting in neon syrup, found at the bottom of Shirley Temples and atop ice cream sundaes. Nostalgic, yes. Also full of corn syrup and artificial flavors. I wanted to make my own. When I told a friend I was attempting homemade maraschino cherries, she replied, shocked: "You can do that?!" Yes, you can do that. I know, it's hard to imagine a homemade version compared to what we've come to know as maraschino cherries. I warn you, they taste nothing of the sundae toppers of your childhood. Homemade maraschino cherries are boozy. Grown-up. I like them.
Essentially all it takes to make maraschino cherries is soaking cherries in maraschino liqueur. Ideally the cherries will be the namesake Marasca ones, but if not then sour cherries are the next best thing. I had neither and so made do with regular cherries. If you've never had maraschino liqueur (I'm sure you've at least seen the recognizable Luxardo brand bottles with their woven covering like old Italian wine bottles), I can guarantee it's not what your expecting. You're probably thinking it's a sweet, cloying, dessert-type liqueur, right? Wrong. It's astringent, alcoholic, mouth-puckering. Not something you'd drink on it's own, but we have it on hand as it's a main ingredient on one of our favorite cocktails: the Aviation. But that's another recipe for another day.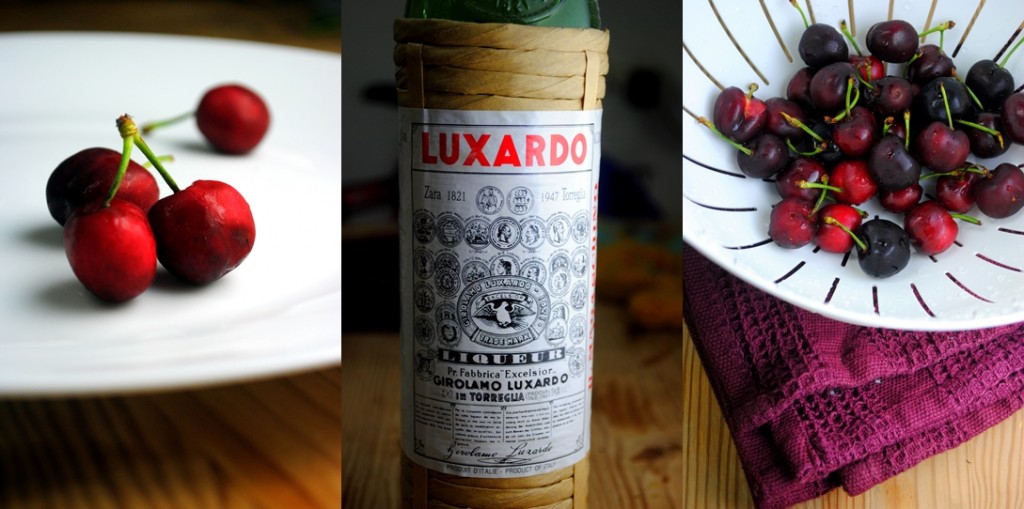 One method of making maraschino cherries is just to combine the cherries and booze in a jar and refrigerate for two weeks. I was impatient. I was having people over. I wanted cherries and wanted them now, so I used a hot method to speed things up. While many recipes don't call for sugar (like this NY Times one that I used as a base), I added just a bit and I would even consider adding more. I wanted to keep it as pure as possible but there are some interesting variations out there. Cupcake Project, for example, adds lemon juice, cinnamon, vanilla, and nutmeg.
In Dale DeGroff's The Essential Cocktail: The Art of Mixing Perfect Drinks, he suggests putting the cherries in a jar, covering them with sugar, and letting them stand at room temp for a day. Then you add Maraschino liqueur to cover, shake, and refrigerate. I suspect this will produce a sweeter product and I'm curious. Next time I will try this method.
And for those who plan on feeding these to children, I suggest following a non-alcoholic version, like this one from NPR. They use grape juice instead of liqueur.
There you have it! DIY maraschino cherries. They are the perfect accoutrement to a drink, whether you're going for a grown-up Shirley Temple (my all time favorite drink as a kid) or a classy Rob Roy cocktail. Just don't let the kids get a hold of them!

Homemade Maraschino Cherries
Author:
Katherine Martinelli
Yield:
32 Maraschino Cherries
Ingredients
1 cup Luxardo Maraschino liqueur
¼ cup sugar
32 cherries (about 1½ cups); preferably pitted, or just warn guests they have pits
Directions
Combine the Maraschino liqueur and sugar in a small pot over medium-low heat. Simmer, stirring occasionally, until sugar dissolves fully, about 5 minutes. Add the cherries, stir to coat, and remove from the heat. Cool to room temperature then transfer to a glass jar. Seal tightly and store in the refrigerator.