I've resisted the urge over the years to get a fondue pot. Small apartment living has made me deny any one trick ponies into my kitchen, even if their one trick is really worthwhile. It's the same reason I don't have a tagine.
I had purchased a big wedge of raclette from a fromagerie in Tel Aviv over the weekend. I knew a fondue-type dish would be an excellent use for it, but I was faced with a challenge. I don't have a fondue pot. Nor do I have an open fire or raclette grill, a device for melting reclette just right so it can be scooped and enjoyed with boiled potatoes.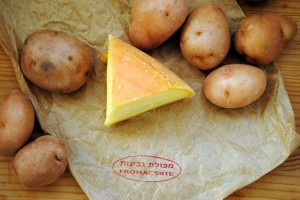 I decided to make a sort of raclette fondue hybrid by melting raclette cheese with white wine in the traditional fondue style, then drizzling it over small boiled new potatoes, to be enjoyed in the traditional raclette style. In this way it becomes more of a plated appetizer, a fusion of two great Swiss melted cheese dishes.
This came out better than I ever could have expected. The wine and garlic came through in just the right way, the sharp raclette mellowed, and the potatoes provided the perfect melted cheese vehicle. It was an excellent starter. Filling enough that it sated our appetite while I prepared the rest of dinner, but not so heavy that it made us skip dinner. And, the best part, it came together in well under half an hour. Boiling the potatoes was the longest part.
I served this on one large plate for Evan and I to share, but it could also be served on individual salad plates for a sit down dinner. Or, you could quarter the potatoes and stick toothpicks in them to serve this as an Hors d'oeuvre.
This recipe was also named an Editor's Pick for Food 52's challenge, Your Best Fondue.
Raclette Fondue
Yield: 2 appetizer servings
INGREDIENTS:

8 small new potatoes
1 clove garlic, smashed
1/4 cup dry white wine
1/2 cup grated or thinly sliced raclette
1 teaspoon flour
Chopped parsley, for ganish
Pepper, to taste
METHOD:

Boil the potatoes until soft enough to eat. Drain, slice in half (or quarters if large) and set aside.
Rub a small nonstick pot with the garlic. Either discard the garlic or leave it in (I prefer to leave it). Add the white wine. Bring to a simmer. Add the cheese and flour to the wine. Stir constantly until melted.
Arrange the potato halves on one or two plates. Drizzle with the cheese sauce. Garnish with chopped parsley and season with pepper. Serve immediately.
This recipe was selected as a food52 Editor's Pick!
Testing notes from recipe tester SticksnScones:"When you have a hankering for cheese fondue and don't want to make a fuss or don't have a fondue pot, this is for you! It comes together quickly and is immensely satisfying. I served it as an appetizer and my guests fought over the last couple of potatoes. I would love to add some chopped cornichons as a garnish and extra flavor bite on my next go around. Yum!"