Have you ever gone to a restaurant and had something so extraordinary that it haunted you? That happened with nearly every dish we ate at Empellon, the upscale Mexican taqueria in New York opened by WD50's former pastry chef, Alex Stupak. Although the restaurant came with high praise from good friends, I admit that I had my doubts as we stood in the crowded dining room on the stormiest night of the summer waiting for a table. A fancy Mexican restaurant with a molecular pastry chef gone savory and $18 tacos? It's rare that I say anything was worth a two hour wait and a substantial bill. But they knocked it out of the park. And this smoky cashew salsa has haunted me ever since.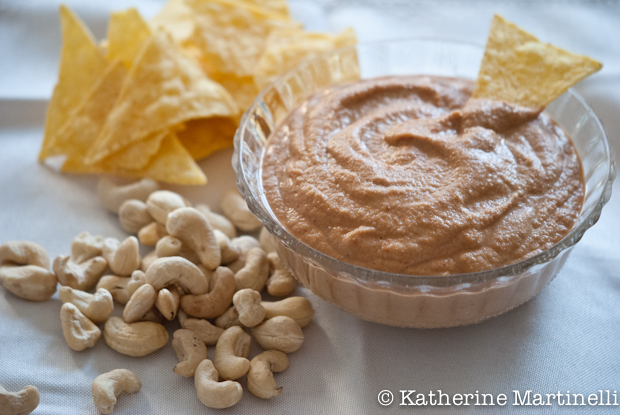 [pinit count="horizontal"]
There were four of us at the table sharing tons of food, and each dish was better than the last. We thought the uni sopes (on special that night) would be the stars of the show and they were good. But everything else was better. The unassuming smoked plantain sopes with crema struck a perfect balance of flavors, the black trumpet mushroom queso fundido was an earthy, gooey joy, and of course the tacos were heaven (hen of the woods, fish tempura, lamb barbacoa, and skirt steak – oh the skirt steak!). And the salsa! We had been warned about the addictive qualities of this smoked cashew salsa, but I just couldn't envision it. I had no idea what I was in for.
It came with the guacamole and incredible house-made tortilla chips and had us all enchanted from the moment it was set down on our table. A thick and rich dip, it's made with smoked cashews and naturally smoky chipotle peppers, giving it a double dose of smoky goodness. There's a slight kick, but nothing overpowering, and the entire effect is very smooth – both in texture and balance of flavors.
When we got the bill and it came with a recipe for the smoked cashew salsa, you would have thought we had just won the lottery based on our reactions. Drunk on an amazing meal (and maybe some wine and cocktails too) we couldn't believe our lucky stars that Stupak was just giving us the secret to the smoked cashew salsa. Even better, it looked doable. Stupak smokes the cashews along with wood chips in a dutch oven on the stovetop, but as we brainstormed shortcuts around the euphoric table close to midnight, it hit us all at the same time: Smoked salt. Just earlier that day I had purchased a jar of smoked alderwood salt from The Filling Station in Chelsea Market and I knew exactly where I was going to use it. My entire day suddenly felt like serendipity.
Hence I've changed the name from "smoked cashew salsa" to "smoky cashew salsa," which feels more appropriate. With this shortcut, the recipe couldn't be easier to make and takes all of 15 minutes to do. If you don't have smoked salt on hand, no worries – I imagine the salsa will be plenty smoky and still delicious with plain old table salt and the chipotles. This nut salsa could just as easily be a dip as a condiment, adding excitement to anything from quesadillas to tacos to boring chicken breast. It keeps well in the fridge for up to a week and is bound to make everyone in your life very, very happy.

Smoky Cashew Salsa
This smoky cashew salsa is like no dip you've ever had, and is a cinch to make. If you don't have smoked salt, simply substitute regular salt. It will still knock your socks off.
Author:
Adapted from Empellon
Yield:
Makes about 2 cups
Ingredients
5 ounces cashews
8 ounces water
3 chipotle chiles in adobo, seeds removed
1 teaspoon smoked alderwood salt
1½ tablespoons sugar
Directions
Toast the cashews over medium heat until very lightly golden.
Put all the ingredients in a food processor or blender and puree until smooth.
Seriously. That's it. Serve right away with tortilla chips or to spice up quesadillas, or store in an air-tight container in the fridge for up to 1 week.
Notes
Gluten free, Parve, Vegan, Vegetarian