I know, it sounds fancy. It looks fancy too. But this elegant potato and goat cheese terrine is deceptively simple to prepare. And because it needs to be chilled for 24 hours and the final plating takes seconds, it's the perfect make ahead appetizer for a dinner party.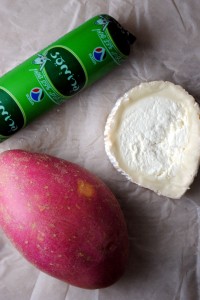 This recipe comes from Josh Thomsen, the incredibly talented chef at the Claremont Hotel Club & Spa in Berkeley, California. I first had it when I visited last year and was struck by the imaginative recreation of a common but amazing combination of beets and goat cheese. The creamy, tangy, slightly seared goat cheese is the perfect foil for sweet roasted beets. And did I mention the presentation is just gorgeous?
I'm not kidding when I say that this recipe is extremely doable. Thin slices of potato baked in butter create a wrapping for smooth goat cheese mixed with chives. The terrine is covered and chilled overnight. Just before serving, slices of the terrine are seared on one side over super high heat for about 12 seconds until lightly browned (I cannot stress how important super heat heat is. Like, hotter than you think. If it's not insanely hot then the goat cheese will just melt). Check out the slide show for a step-by-step visual guide to making this terrine:
I followed the recipe almost exactly but used less goat cheese, which produced a thinner slice of terrine. The original recipe calls for 44 ounces of goat cheese and I used 17.2. Even with less than half the original amount, this still made about 12 servings. I recommend using the best quality goat cheese you care to spend money on. I used a mix of expensive and less expensive goat cheese with great results.
Potato and Goat Cheese Terrine with Thyme-Roasted Beets and Balsamic Reduction
Adapted from Josh Thomsen, Claremont Hotel Club & Spa (recipe in Global Traveler)
Yield: 1 Terrine (About 12 Servings)
INGREDIENTS:
Potato and Goat Cheese Terrine:
17.2 ounces goat cheese (or round up to 20), brought to room temperature

½ cup finely chopped chives
3 large potatoes, peeled and sliced 1/16th-inch thick
½ cup clarified butter
Kosher salt
Freshly ground black pepper
Thyme-Roasted Beets:
4 beets, peeled and quartered
Salt and pepper
Extra virgin olive oil
Fresh thyme
1 tablespoon finely chopped chives
Balsamic Reduction:
1 cup balsamic vinegar
4 sprigs fresh thyme
METHOD:
Potato and Goat Cheese Terrine:

Preheat the oven to 300ºF. Combine the softened goat cheese and chives and set aside. To make the clarified butter, melt butter over low heat until frothy and solids separate. Skim the fat off the top and strain. Dip the potato slices in the clarified butter and place on a Silpat-lined baking sheet. Season with salt and pepper, then top with another Silpat. Bake the potatoes for 5 minutes or just until the potato is cooked, but still pliable. Allow to cool.
Line a loaf pan with plastic wrap. Arrange overlapping potato slices in the terrine, using enough potatoes to hang over the edge of the terrine. Fill the potato-lined terrine with 1 cup of the goat cheese mixture. Add a layer of cooked potato, then another layer of goat cheese; repeat until all cheese has been used. Flip the overhanging potato slices over the goat cheese mixture, cover with plastic wrap, and refrigerate until chilled, about 24 hours.
Thyme-Roasted Beets:
Preheat the oven to 375ºF. Season the beets with salt, pepper, oil, and thyme. Wrap in aluminum foil to form small pouches and roast for 25 minutes. Allow to cool and mix in the chives. Can be made one day ahead; refrigerate and bring to room temperature before serving.
Balsamic Reduction:
In a saucepan, combine the vinegar and thyme. Simmer until the mixture is thick enough to coat the back of a spoon. Cool to room temperature. Can be made one day ahead and refrigerated.
To Assemble and Serve:
Turn the terrine out of its mold, remove the plastic wrap, and cut into ¼-inch slices. Heat a non-stick sauté pan over high heat until very hot. Sear the slices for about 12 seconds, or until the first side is golden brown. Flip over onto a plate. Place the thyme-roasted beets next to the terrine and drizzle with the balsamic reduction. Serve immediately.