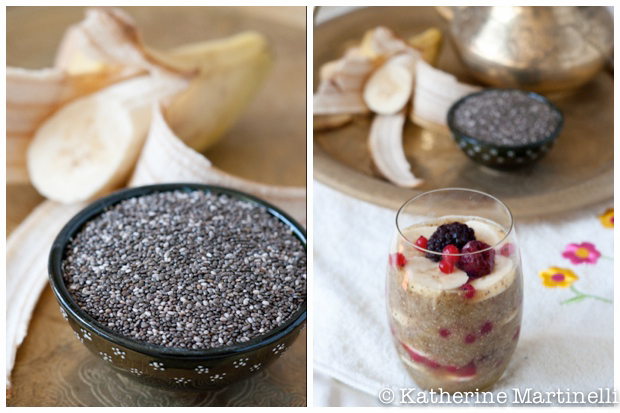 I've been fascinated by chia seeds (salvia hispanica) for a while now. They're rich in omega-3 fatty acids and, while they're a tad pricey a little bit goes a long way. Until now, though, I've mostly been simply sprinkling them on top of my morning yogurt, or incorporating them into the occasional smoothie. This month's Secret Recipe Club gave me the opportunity to try them in this Orange Chia Pudding Parfait and, thanks to the blog Opera Singer in the Kitchen, I have a new go-to breakfast! It's fast, healthy, and super filling – those little seeds expand both in the orange juice and your belly and keep you full for hours.
One of the many reasons I love participating in the Secret Recipe Club is because it introduces me not only to new recipes, but to new food blogs. I'd admired Opera Singer in the Kitchen before, but was grateful for the opportunity to really peruse her site. Once I started I couldn't stop! Noelle is a pharmacy technician by day but foodie, singer, and mom by passion and the blog is her place to bring together all of these interests. Her recipes are largely vegan (she was vegan until she had her first child), and all totally scrumptious.
As always, it was difficult to choose just one recipe. I seriously considered the Mushroom Medley over Greens and Creamed Butternut Squash (wowza!) or these gorgeous and seriously elegant Fruity Coconut-Cashew Cream Tarts (will be making those soon). But as simple as it sounds, I've been wanting to make a chia pudding or something similar for a long time. Plus I'm really bad at eating breakfast and need more quick, healthy options in my arsenal! This fit the bill. The main change that I made to Noelle's recipe was to cut the ingredients to make one serving instead of two. I also found that it wasn't thickening on its own the way I wanted to (maybe my chia seeds are old or something?) so I gave it a quick blitz with my immersion blender, which got it nice and thick. I can't wait to make this again! It would be delicious with any combination of fresh juice and seasonal fruit.
Also, Noelle is due with her second child this month – Mazel Tov Noelle!!! Best of luck!

Orange Chia Pudding Parfait
This orange chia pudding parfait is the ultimate healthy breakfast. It's quick and tasty and can be made with any combination of juice and seasonal fruits!
Ingredients
¾ cups orange juice (preferably fresh squeezed)
2 tablespoons chia seeds
1 tablespoon agave nectar or maple syrup (omit if using commercial OJ)
½ banana, sliced
½ cup fresh berries
Directions
Put the orange juice and chia seeds in a bowl or large glass and stir. Let sit for 10 minutes, stirring occasionally, until the seeds have absorbed the juice and the mixture is slightly thick (if this doesn't happen, then quickly blitz it with a food processor or immersion blender).
Pour a little bit into a glass. Add a layer of strawberries and berries, more chia pudding, and so on until the pudding is done. Top with the remaining fruit and serve.
Notes
Gluten Free, Parve, Vegan, Vegatarian