As the weather starts to cool down (yes, even in the Middle East), it's only appropriate that the theme for this month's World on a Plate is soup. I love soup in all its comforting glory, and immediately began considering what variety I would make. It didn't take me long to settle on potato leek soup. I know it's not technically American (I represent the good 'ol USA in this global community project), but it's so ubiquitous in the United States today that I think we can safely say we've claimed it as our own, along with the Irish, British and French.
There are few soups as comforting as potato leek soup. Naturally creamy, imbued with subtle flavor, hearty and filling, it's all one could want out of a soup. It's a humble soup to warm the soul. Here I've livened things up a bit with a splash of dry white wine and a finishing drizzle of truffle oil (white or black). You can stir in some sour cream, or serve each bowl with a dollop if you'd like the soup a tad creamier, but it's plenty luscious without it as well.
Potato Leek Soup
Humble potato leek soup is the perfect weeknight supper on a chilly evening.
Author:
Katherine Martinelli
Ingredients
1 tablespoon olive oil
2 tablespoons butter (use all olive oil to make vegan/parve)
3 leeks (light green and white parts), cleaned and thinly sliced
1 large onion, chopped
6 cloves garlic, minced
Salt and pepper
½ cup dry white wine
64 ounces vegetable broth
2½ pounds potatoes, quartered (I don't peel them, up to you)
½ cup sour cream or Greek yogurt (optional)
White or black truffle oil (optional)
Chopped parsley
Directions
Heat the oil and butter in a large pot over medium heat. Add the leeks, onion and garlic and season with salt and pepper. Cook, stirring occasionally, until softened, about 7 minutes.
Add the wine and bring to a boil.
Add the broth and potatoes.
Simmer until the potatoes are quite soft, about 20 minutes.
Blend with an immersion blender or carefully transfer in batches to a blender. Blend until smooth.
Stir in sour cream, if you like.
Serve, drizzle with truffle oil if using and garnish with chopped parsley.
Notes
Gluten free, Vegetarian

Kosher dairy with the butter and sour cream

Parve and Vegan without the butter (use just olive oil, or sub margarine) and without sour cream (it's really not necessary).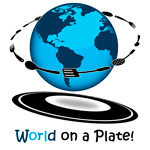 World on a plate
 is a blogging cultural exchange. On the last Sunday of the month, bloggers from all over the world get together to interpret a food through the lens of their home country cooking. Each blogger will produce a wonderful dish featuring the food chosen that is typical of her/his home country and will tell us a bit about the dish.