Paprikas Csirke ~ Chicken Paprika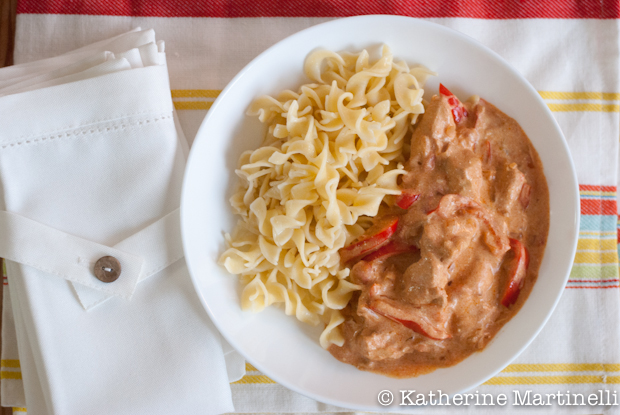 2½ teaspoons oil
1 large onion, finely chopped
1 heaping tablespoon mild paprika
2 pounds (about 1 kilo) chicken breast, cut into bite-sized pieces
Salt
2 red bell peppers, sliced
1 large tomato, peeled, seeded and chopped
1⅔ cup (400 ml) sour cream
1-2 tablespoons flour
Heat the oil in a large skillet over medium-low heat and cook the onion, stirring occasionally, until transparent.
Add the paprika and stir to combine.
Add the chicken and cook over high heat for a few minutes, stirring often.
Lower the heat, season with salt and add the red pepper and tomato. Stir to combine and cover with a lid. Cook until the chicken is cooked through, about 20 minutes, stirring only occasionally. Add a little water if the pan is too dry.
In a separate bowl, stir together the sour cream and flour until smooth. Add to the skillet, stir, and gently simmer for another 4 to 5 minutes.
Remove from the heat and serve with buttered egg noodles (the traditional accompaniment is actually a cucumber salad).
Gluten free if you substitute the little bit of flour at the end for gf flour or a teaspoon or corn starch.
Recipe by
Katherine Martinelli
at http://www.katherinemartinelli.com/blog/2012/chicken-paprika-food-bloggers-support-for-sandy/